Herps or reptiles are some of the best types of exotic pets to keep for those who are interested in keeping such pets. There are plenty of reptiles that are quite easy to take care of and are quite fascinating creatures when you are able to provide them the basic requirements they need to thrive well and stay healthy throughout their entire lifespan. Meeting your pet reptile's requirements does not only relate to its living conditions and immediate environment but also to its food and nutrition. And when you are taking care of smaller reptiles, you probably know that their diet consists mainly of insects.
Taking care of a large number of reptiles means that you have to keep a consistent food source that you can just rely on whenever it is time to feed your pets. It can be a hassle to go to the pet store every time you need to buy food for your herps. As such, it might be time for you to consider breeding your own insects at home so that it will be much easier and more affordable for you to feed your reptiles.
Why breed insects?
If you are wondering why you might want to consider actually breeding insects at home instead of just buying them, here are some of the reasons why it is such a good idea for you to do so:
1. Doing so is cheaper
Generally, insects are inexpensive food sources for your herps because they are abundant in numbers and are very quick to reproduce. However, if you want to go cheaper, why not breed your own insects at home? After all, breeding different types of insects to feed for your herp is not a very difficult task to do so. They pretty much take care of themselves so long as you provide them enough food and a place to stay in. That way, you don't have to buy new insects to feed your reptiles every time you run out.
2. It is less of a hassle
When you breed your own insects for feeding, you are essentially taking the hassle out of driving to the nearest pet store every time you run out of insects for your herps. While this isn't a big deal for those who basically live near a pet store, it can be too much of a hassle for those who live far away. As such, it might be a good idea to take breed insects at home, so you no longer have to keep going to the pet store every time you need to restock.
3. Different varieties
A lot of reptile experts will suggest that it is always better to feed your herps with a wide variety of insects. You can choose from roaches, crickets, mealworms, or waxworms. However, most people are slaves to what the pet store has. Not all stores carry a wide variety of different insects all the time. As such, you are not always able to mix and match your reptiles' food even if you wanted to. But if you breed your own insects at home, you will always have access to a wide variety of different food for your reptiles so that you dispense the monotony of having to rely on one insect or another every time you feed them.
Common feeder insects you can breed
1. Cockroaches
Truth be told, nobody likes cockroaches. They are dirty, pesky, and downright ugly insects. And if you are not careful, you may end up with an entire house full of roaches. But, whether you like them or not, you cannot deny that roaches are some of the easiest and most cost and time-efficient feeder insects you can breed as a food source for your herps.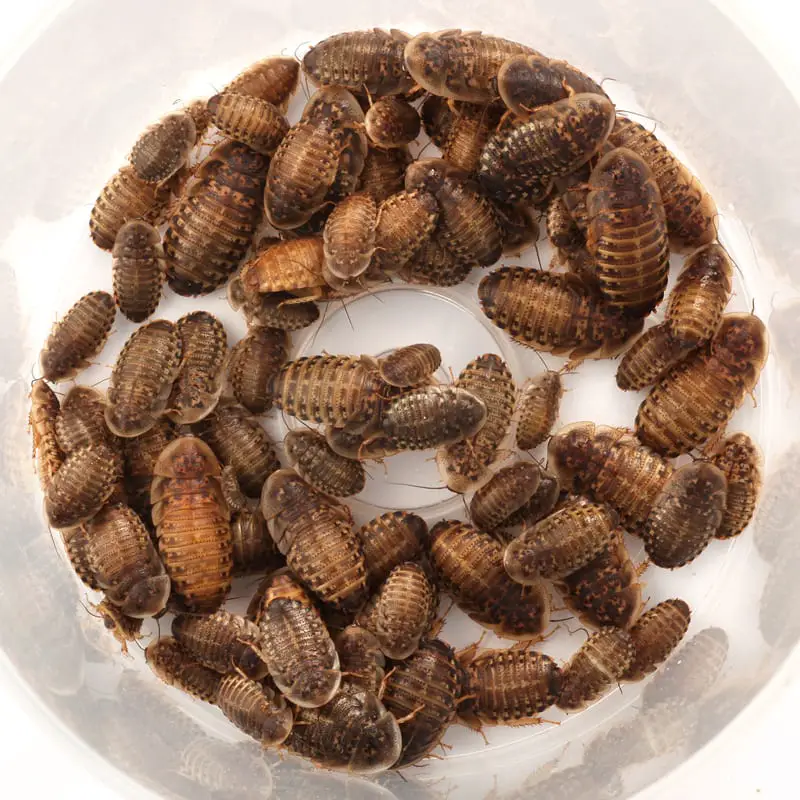 Cockroaches are so easy to breed and maintain to the point that they can basically reproduce and stay alive with minimum care. At times, even if you neglect them, they will keep on multiplying and will supply your herps with enough food to last for a lifetime. As such, you might want to consider breeding roaches because of how easy they are to maintain.
If you are breeding roaches, it is enough to keep them in a large see-through container that can be either plastic or glass. You should drill small holes through the container to allow air to pass through. However, keep a screen on those small holes so that there is no chance for your roaches to escape through them. And if you are keeping roaches that are excellent at climbing glass, you should make use of a two or three-inch strip of Vaseline near the opening of the container to prevent them from escaping. Simply wipe Vaseline all around the perimeter so that the roaches won't be able to climb out of the housing unit.
Provide your roaches with a substrate that will allow them to feel safe and secure in the container. Coco coir should do the trick. And when providing them with food, roaches can basically survive on any type of food. However, to make them more nutritious for your herps, provide them with dry food such as oats, bran, and dog food while supplementing their diet with fruits and veggies from time to time, especially when you are about to feed them to your herps.
As long as you do things right, you will see how rewarding roaches are, especially because they are very easy to keep and breed. You just basically provide them with a place to breed and some food to eat and then leave them alone. These cost-efficient insects will give you a consistent supply of food for your reptiles as most herps enjoy eating insects that are soft-bodied.
2. Crickets
Crickets are undoubtedly the most popular and most preferred food source for most herps. However, what makes them different compared to roaches is that they are actually a lot more difficult to breed. That is because there are certain conditions you have to meet for the crickets to thrive properly in captivity as compared to roaches, which can simply under any kind of conditions.
Some types of crickets need to be kept in an environment with the right temperature if you want them to grow well. A pinhead cricket, when it is kept in an 80-degree habitat, will tend to grow slowly. This makes it ideal for herps that prefer to eat smaller types of insects or are unable to eat larger crickets. So, in some cases, it might be ideal for you to keep your crickets in an environment with a controlled temperature if you want them to grow in a certain way.
Keeping crickets in their own container tends to be the easiest part of breeding them. You can house them in a container that is well-ventilated if you want them to breed successfully. Some might go for simple containers such as trash cans but with ventilation holes and a lid to prevent the crickets from escaping. Meanwhile, others would go for any kind of container so long as it has the ventilation that the crickets need to survive.
When feeding crickets, it is important that you give them a diet that is healthier as they are not as versatile as roaches are when it comes to the food they eat. Crickets prefer to eat vegetables and greens. That is why most of those that breed crickets provide them with a wide variety of vegetables to eat. This includes lettuce, cabbage, squash, carrots, and collard greens. Meanwhile, when it comes to the crickets' water, you can simply place a sponge filled with water inside the container.
Crickets are a bit straightforward when you are breeding them, but they can be pretty difficult to take care of when they are already more than two weeks old. Nevertheless, you can still find a lot of success when breeding them, although it is a bit more difficult to do so compared to when you are breeding roaches, which basically just take care of themselves. Crickets, on the other hand, are better food choices for a lot of herps because they are healthier due to their vegetable-based diet.
3. Mealworms
Mealworms are not exactly insects but are invertebrates. Nevertheless, they still make good meals for your herps, especially if you want to add some variety to their diet. They are also the second-most popular choices for reptile breeders because of how they are easy to keep and how comparatively healthy they are compared to other food choices for your herps.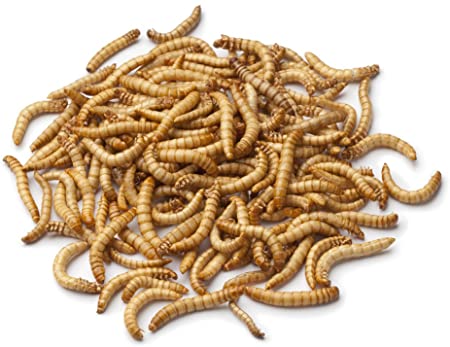 When keeping mealworms for breeding, placing them in a simple container is enough, and the best part is that they cannot climb up their container to escape. Keep them safe inside a container that has enough ventilation. However, breeding them might be a bit tricky compared to keeping them. It is quite easy to keep them because you can place them in the refrigerator where they will stay dormant. However, when kept in a place with room temperature, they will soon morph into beetles.
Nevertheless, you can still breed them successfully as long as you provide them plenty of food. Never forget to keep them in a place with room temperature if you want to breed them. It might take longer for you to see the results compared to when you are breeding roaches and crickets, but you will find that your herps will love these delicious and nutritious meals.